You've found the web page of N. M. Cedeño, author of short stories and novels.
Most of my writing falls under the general category of mystery fiction. Some of my stories are mysteries set in the near future.  Some are set in the present.  Some are traditional mysteries. Others are closer to romantic suspense.  I even write ghost story mysteries. Yes – all over the mystery genre map.  If you aren't interested in one type of story, maybe another will catch your eye.
~~~~~~~~~
Here's the Latest News:
My short crime story set in the future entitled "The Wrong Side of History" is coming out in October 2021!
"The Wrong Side of History" will appear in After Dinner Conversation and the issue is now available for preorder.
A 130-year-old politician living in a post-apocalyptic world is being blackmailed over his past political stances. Will the blackmailer succeed in destroying his legacy or will the fixer he hired save his reputation?
After Dinner Conversation is a magazine that prints short stories that provoke deeper ethical and philosophical discussions. The magazine will provide discussion questions to help promote conversation.
I also have two new stories accepted for publication in spring 2022! Black Cat Mystery Magazine Presents Cozies and an anthology entitled Groovy Gumshoes will both include one of my short stories. Publication dates and covers will be posted when I receive them.
I had fun discussing Creating Characters with a panel of mystery authors for the the Pflugerville library. After talking about how we create characters, we played "Two Truths and A Lie." Click Here to watch the panel. My two truths and a lie are below. Can you guess which is which?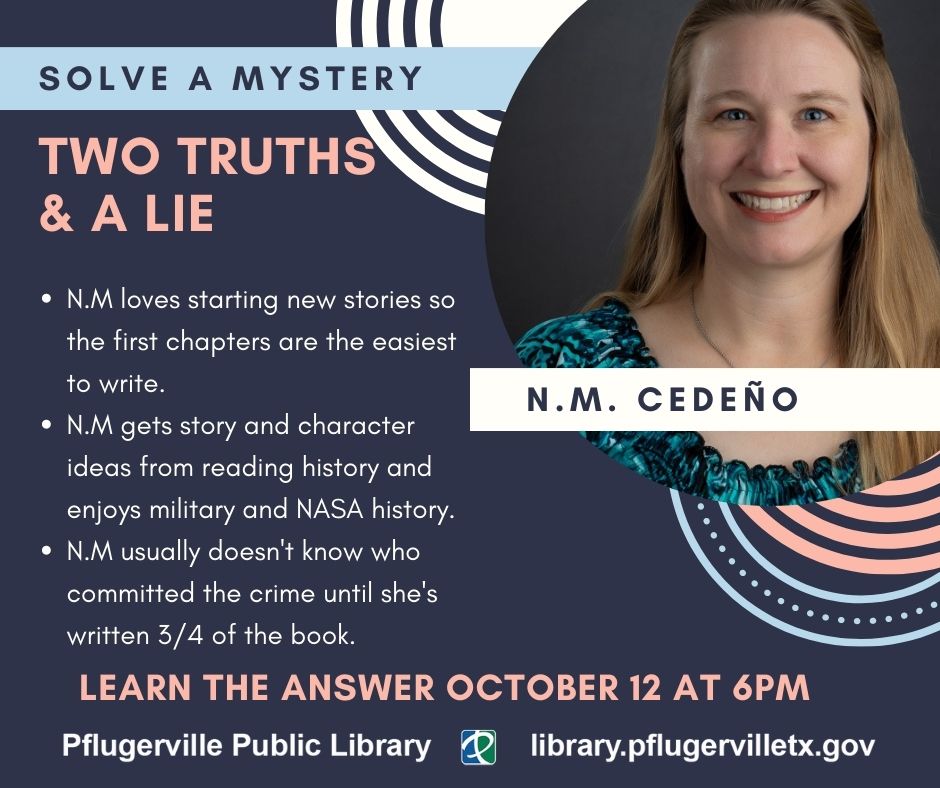 I am active in and on the board of Sisters in Crime: Heart of Texas Chapter. For events and activities, visit the HoTSinC website.
~~~~